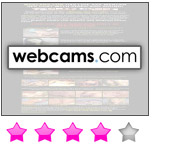 Sexy Shemales and Trannie Teasers are waiting to fuck live on Webcams.com


Webcams.com is the number 1 for amateur web chat. Their hosts all perform from home and there's not a studio in sight. I hate those crappy looking studio sets with 20 TS's working in a tiny room, so this is great. You get to look at all the shemale profiles there too and see their self-suck photos before chatting. Although there aren't that many hosts online, the ones there were smoking hot.
WebCams.com Reviewed in Depth
Special Features
Special Promotions: None
How Many Cams: About 1000
Average Cost: 2.99 to 3.99 (But there are discounts available)
Special Features: Rate the host; Sex Galleries; 'How To' Guides; Free Live Chat (With membership)
The Hardcore Features
You don't have to use a cam to chat, but cam2cam is available at www. Webcams.com. I love getting my lucky ladyboy to watch me jerk off as she toys her ass for me. There are good profiles too. The t-babes love to get filthy in them at tell you all their kinks and you can check out their hardcore pics too. Plus you can see user ratings there which always let you know if they get straight to the naughty action or are just stalling for time.


Shemales Defined
Hosts are all categorized her so you can jump straight into some trannie action, or whatever else gets you off, at the click of a button. There are also useful 'how to' guides for all you monkeys out there that have just about figured out how to switch on your computer and webcam.


The TS Money Shot
Membership starts at $4.99. For that you can chat with all the hosts for free before paying for a filthy TS fuck show.

When you do go into the XXX shows, they're from $2.99 to $3.99. Make sure you check out the T's &C's about reoccurring charges with your membership.