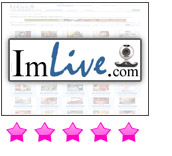 Enjoy the Best of Both Worlds with a Live Shemale Sex Chat at ImLive.com


ImLive boasts hundreds of live tranny sex cam hosts and it recently updated its whole design and added a bunch of crazy, sexy features that really raise the bar for live chatting. This site also has magnificent promotions and special deals that make it into one of the cheapest choices around and the more time you spend chatting and flirting with the gorgeous shemales, the more discounts you'll get. Read a complete review of this adult webcam arena and the check out the smoking hot shemales and horny transsexual couples online.


ImLive.com Reviewed in Depth
Special Promotions: Free Sign-Up, House of Games, Cash-Back Campaign, Video Competitions; Free Live Chat
How Many Cams: 24,705
Average Cost: 0.98 - 4.98 credits. Member discounts of up to .90 and new hosts charge max of 0.98. Buying 30 - 60 minute blocks awards a discount (20% & 30%). House of Games prices are 1.48
Special Features: Live Keyholes, cam2cam, Video Competitions, Group Cams + plus many more
Don't Miss the Exclusive Shemale Sex Cam Special Features
I have already mentioned some of the features available on ImLive, but a few deserve an extra explanation. Along with features like Group Cams and Live Keyholes (A personal favorite of mine), this transsexual chat community offers great options like Recorded Session and Video Competitions, for when that special ladyboy of yours is offline. After the recent update users can also enjoy free exclusive features such as Live Viewer, where 6 free chat rooms are presented before you on one split screen and the Tile View, where you can check out teasers, previews and slide-shows of all the sexy Tgirls. The site is quite easy to get around and the FAQ's will get you through the rest.
Imlive.com's Shemales - The Juicy Bits
Just like my favorite shemale host, ImLive offers the best of both worlds. Not only are there some pretty cool features during a live chat session, but there's also plenty of hot action going on when the host is offline. What I like best is the option to record sessions and play them back at anytime. The monthly Video Competition is always worth checking out. Sometimes you get breathtaking Tgirls doing what they do best in a hot live sex show and other times, they can mess the theme up so badly that you'll be LOLing, but with a hard-on. Thanks to the unlimited free transsexual chat rooms, you always have something to do between shows and if you hate sitting around and waiting, you can always schedule a date with your favorite host and if she approves, the 2 of you can hook up whenever you want.
The Shemale Money Shot - Tranny Video Chat Prices
The prices here are average for any cam site. But, there are lots of offers available too. Hosts can give you a discount directly, plus they also have a Discount Club which saves you big bucks and you get to watch their videos for free. House of Games are discounted group shows that are available all day long and costs 1.48 per min. The advantages of House of Games is that you get to direct the stunning Tgirl in turns, you pay less and if the host reaches her tip goal, anyone that tipped gets 50 percent off the next private chat with this same host. However, there's an even cheaper option: New shemales only charge 0.98 per minute and that's fucking fantastic. The Keyhole feature costs 3 credits per minute and allows you to spy on another user's private chat, so you can see what some other sick fuck wants the host to do. There is also paid Live Viewer where you can spy on up to 6 private chat rooms at once on a split screen and it also costs 3 credits per minute, but if you have an ADHD, this option isn't for you.
Notice that on ImLive.com loyalty is highly rewarded. Users receive points for spending time on group and private sheamle chat rooms, as well as for watching paid tranny porn videos, and these points allow them to advance in memberships where each new level entitles them to bigger automatic discounts and more freebees. These memberships are all free and you get an upgrade once you collect enough points and without having to ask. After the recent update the site also introduced ImLive+. This is kind of an upgrade where you pay 29.95 per month and get at least 100 House of Games credits and a Discount Club voucher (the higher your membership status is, the more freebees you get). Usually I don't like paid upgrades, but in this case you get more than what you pay, so it's certainly worth considering.
All Shapes and Sizes - International Selection
The benefit of having so many t-babes registered to the site is that you can find sexy transsexuals from all corners of the Earth. Some sites have plenty of girls from the Philippines and this site does too, but with lots of U.S., British, European and Latin ladyboys too. After all, they do say variety is the spice of life, or some bullshit like that. Anyway, the Shemale Couples category is a great addition. Why only chat with one girl at a time when you double your fun at no extra cost!?!